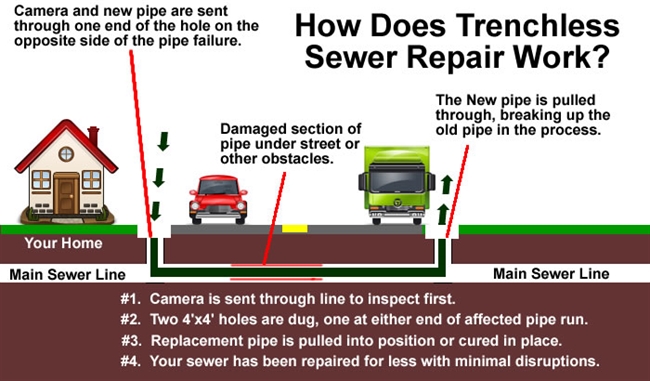 Trenchless sewer repairs in Ohio, USA
If you're looking for trenchless sewer repairs in the state of Ohio it's likely you've just been told by a plumbing company or sewer line repair company that you're going to have to dig up your property at a cost of many thousands of dollars to repair your problem pipes.
Before you commit to an expensive and lengthy traditional sewer repair project did you know there is an alternative solution that just might be perfect for your home or property?  It's called Trenchless Sewer Repair, and it's available throughout Ohio.
1 DayTrenchlessSewerRepair.Com specializes in trenchless sewer repair throughout Ohio.  Instead of digging up your property, taking out gardens, driveways, yards, sidewalks and causing a very expensive disruption to your daily routine we can repair your sewer or drain line without any excavation.
Trenchless sewer repair leaves a much smaller footprint on your property as only two small (usually 4' x 4') access holes are dug.  From these access points we can then repair your broken or clogged pipes using a variety of different methods depending on the circumstances.
CIPP Pipe Lining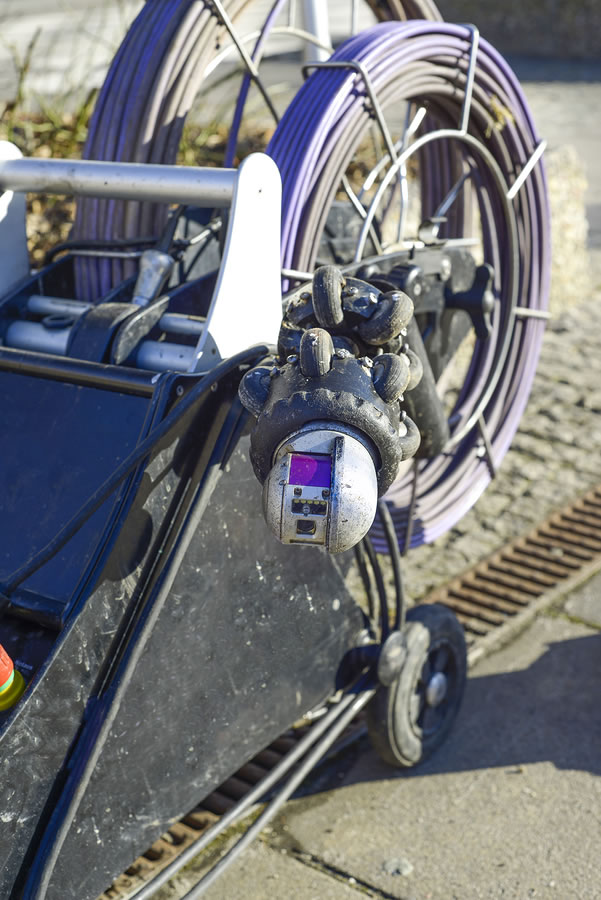 CIPP or Cured in Place Pipe is a one of the most popular methods of trenchless sewer and drain pipe repair.  This method of repair is extremely popular with commercial or industrial building owners who may have both vertical piping and drains in their building.
Using the CIPP method we can usually access the affected drains from the plumbing on the rooftop of your building if they are vertical pipes and in the case of horizontal pipes it's often only a small access point that will need to be created.
It's important to keep note that CIPP cured in placed pipe is not suitable for all water and drain pipes.  There are specific liners for each purpose, such as potable water, pressurized water, hot/cold water and more.  You want to make sure the liner being installed is appropriate for whatever liquids the liner will be exposed to.
When the appropriate type of liner has been chosen  a resin-saturated felt tube made of polyester or fibreglass cloth suitable for resin impregnation, is inverted or pulled into the damaged pipe.  Pressure (either water or air) is then used to help the pipe take appropriate shape and then the resin can be cured creating the tight-fitting, jointless and corrosion resistant replacement pipe.
The rehabilitated pipe is then inspected by closed-circuit television (CCTV) to make sure the professional is satisfied with the repair.
How Long Does CIPP Pipe Lining Take?
This is the fastest method of trenchless sewer and drain repair we offer in Ohio and can often be completed in as little as a few hours to a full day for multiple pipe repairs.
#1.  The affected lines must be inspected with CCTV to make sure they are suitable for CIPP repair.
#2.  The new lines must be pushed or pulled into the existing pipe and then cured in place using special equipment and techniques.
If you are repairing a single line on your home then this can be completed in just a few hours.  If we're repairing multiple lines on a commercial building then it could take us a full day to several days depending on how many need replacement.
Slip Lining Pipe Liners
Sometimes it's a preferable to install a smaller diameter pipe into the broken or leaking pipe as a permanent repair.  This is called "Slip-lining" and is a good solution if you have cast iron pipes or when the inside of the pipes requiring repair are in otherwise good condition.
Pipe Bursting Method
This is usually the not the first method a plumber will choose if pipe lining is an option.  However, in the situation where lining the old pipe isn't preferable then we can resort to the pipe bursting method.
If the sewer lines running from your home to the municipal sewer lines are old, it's quite possible they're made out of clay or another material commonly used many years ago called Orangeburg.  If your sewer lines are made with either of these materials (or even plastic) then the pipe bursting method of trenchless sewer repair is generally the best option.
A special bursting head is pulled through the affected sewer line and it literally destroys the old sewer pipe with it's special head.  The trick is… While the bursting head is being pulled through, breaking up the old pipe it's towing a brand new pipe behind it, effectively replacing the damaged pipe.
This method is extremely effective and saves homeowners thousands of dollars over traditional excavation methods.
How Long Does Pipe Bursting Take?
While the trenchless pipe bursting method of sewer repair is definitely much faster than a traditional excavation it's still a lot of work!
#1.  The sewer lines need to be located first.  Often times the home or property owner will have no idea where these lines are located so we must do a little exploring to find them.
#2.  Once the lines are located we must send a special plumbing inspection camera down the line so we can get a really good visual of where the problems are and if the pipe bursting method is going to be the best choice.
#3.  Two 4'x4' holes must be dug to access the lines.  If it's just yard or dirt that we're digging into then it's usually easy enough for a mini-excavator or shovels if we have to because of property or access concerns.  Often the hole on the "other" end of the repair must be dug through a sidewalk or concrete as it's the end that accesses the main city sewer line.  Any connections will need to be dug up and replumbed as well.
#4.  Once we've got access to the pipe the old pipe can be broken up and the new pipe can be pulled through in a matter of a few hours using a high powered winch.  The pipe is pulled through slowly to not cause any damage to the new line.
#5.  After plumbing in any appropriate connections we can fill in the holes and leave your property in as good of condition as we found it.
Most Pipe Bursting projects can be completed in one day for average sized residential projects, if you have a much larger run of pipe or require different methods of repair then this could take a a few more days to complete.  We'd really need to send one of our trenchless experts to your location to inspect the issue in detail before making that call.
How Much Does Trenchless Sewer Repair in Ohio Cost?
It's almost impossible to provide an exact cost through an article on the Internet but we can tell you it's usually going to be thousands of dollars less than a traditional repair.
Imagine having to tear down walls in your building just to access a single rusted out or leaking pipe?  Thousands of dollars will be wasted on construction/remodeling when a CIPP cured in place pipe could get the job done without any disruption to your building.
Imagine having to bring an excavator onto your property, tearing down retaining walls, ripping up gardens or your yard, possibly driveways, sidewalks and you get the point.  Using the trenchless pipe bursting repair method, or even a liner if applicable will save you thousands of dollars, hours of disrupted time and save your property.
Who Provides Trenchless Sewer Repairs in Ohio?
1 DayTrenchlessSewerRepair.Com specializes in trenchless sewer repair throughout Ohio.  Experienced in all types of trenchless sewer, drain and water line replacement and repair we can dispatch one of our experts to your location quickly and come up with a solution to repair your plumbing problems using trenchless technology.