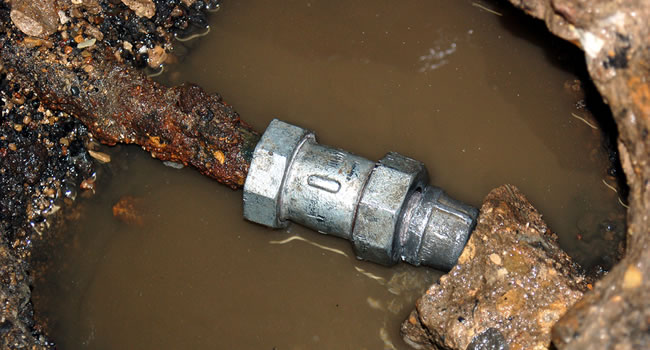 What Causes Plumbing Problems Big Enough To Require Trenchless Repairs?
That's a good question, and really a tough one to answer as every single trenchless repair job will be unique.  However, we can list some of the most common plumbing problems we are often called to repair using trenchless repair methods.
Problem #1:  Tree Roots In Plumbing Lines
This is probably one of the most common reasons we are called to repair pipes.  Usually tree roots have either broken the pipes or clogged them up causing multiple issues for our customers.
With any plumbing problem requiring trenchless repair it's best practice to send a CCTV (closed circuit TV) camera down the plumbing or sewer system and into the affected pipe.  This allows us to pinpoint the location(s) of any problems including tree roots and then resolve the issue with the most appropriate method of repair.
Hydro-Jetting or Water Jetting is the practice of sending a high powered spinning head with water under pressure into the sewer line. A variety of different spinning heads can be used depending on the type of obstruction.  The head spins so fast and with such force from the water pressure that it slices and dices through any obstructions in the line, leaving the line itself in tact.
If after a thorough hydro-jet cleaning and inspection there is visible problems with your lines then we can discuss trenchless repair options.
Problem #2:  Broken or Collapsed Pipes
Many older sewer lines were made with plastic or clay pipe and this becomes very brittle over time.  It doesn't take much shifting of the earth (a couple freeze/thaw cycles) surrounding your sewer pipes to cause damage, especially if the materials are already old and brittle.
Sometimes the problem is caused by poor installation practices when the plumbing or sewer system was originally installed, dropping a large rock on the line from an excavator bucket for example has damaged plumbing lines we've had to repair.
Other older homes especially those built during the 50's or 60's utilized a piping material called Orangeburg.  This material is notorious for deteriorating and causing havoc with plumbing systems.
Utilizing closed circuit TV (our special plumbing cameras) we'll be able to find collapsed sections of pipe in your line.  If it's clay or Orangeburg piping that has collapsed then often the best method of repair is to use the pipe bursting method.
With the pipe bursting method we actually "pull" a new line into place using a high-powered winch.  As we're pulling the new line into place the bursting head is actually destroying the old broken down pipe and pulling a new one into it's place.
Problem #3:  Pipe Corrosion
Depending on the liquids that are running through the pipe, what material the pipe is made of and whether it's in the wall or in the ground will all play a role in how quickly the pipe will corrode.
Old cast iron piping has reared it's head many times in our repair calls as the aging material (especially when underground) has very little protection from corrosion.  The same can be said for piping found inside the walls of homes or commercial buildings.
Minerals contained in the water supply, especially  for those on well water can cause increased corrosion inside the pipes and is another problem we see quite frequently.  Rust, though... Is king of the corrosion issues when it comes to plumbing systems though.
Depending on where the pipe is, and how corroded it is we have a couple of methods of repair available.  Slip-lining the pipe is usually the fastest, most affordable method and is good for situations where multiple, small diameter lines need to be re-lined.
Problem #4:  Municipal Sewer and Water Lines
The aging underground infrastructure of our Ohio cities is rapidly failing.  From erosion to corrosion the underground water and sewer lines are subject to incredible stresses and were never originally designed to last forever.  Now, with demand on sewer and water infrastructure greater than ever before it's become almost a national problem dealing with the failing municipal lines.
Do You Need An Estimate For Trenchless Sewer Repair?
One Day Trenchless Sewer Repairs offers same day contact for your trenchless sewer repair problems.  Give us a call or fill out an email form and we'll have one of our technicians in your area call you right back to arrange a time to inspect your problem.